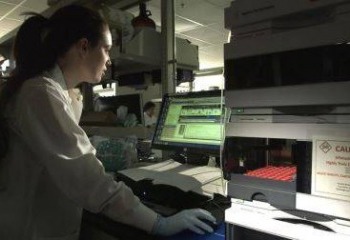 Insights
Showcasing the Power of Global Invention at Hannover Messe
April 19, 2016
Successful invention relies on a thriving global ecosystem for science and technology breakthroughs. At Intellectual Ventures, we're proud to foster the vast infrastructure supporting the work of invention around the world. That's why we're heading to Germany later this month to demonstrate the value of an invention marketplace by showcasing some of the products we've created, our work with partner companies and the groundbreaking technology behind a few of our spinouts.
Biochemist Amy Steadman monitors toxin levels using high performance liquid chromatography in the Intellectual Ventures Lab.
For the first time in the event's 69-year history, the US is serving as the partner country for Hannover Messe, a leading global trade fair for industrial technology. We're attending the conference as a part of the U.S. Commerce Department's delegation and excited to continue to build global relationships and innovations to grow the marketplace for invention.
Our shortlist for the showcase includes:
In other words, inventions that touch and help people from all walks of life all around the world.
Inventing in today's landscape is inherently collaborative. Contemporary problems are complex, traversing technological, geographical and policy boundaries. And technological developments over the past few decades have made our world more connected. It's no longer only about the single inventor solving a specific problem, but about groups of smart people – often across different geographical regions - working together to solve really big challenges.
Innovation is a global enterprise. And our next stop is Germany.
Want more content on Hannover Messe? Follow us on Facebook and subscribe to our newsletter for the most up-to-date pictures, anecdotes and more from our team on the ground.