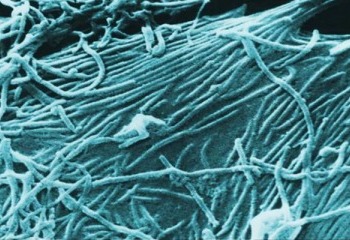 Insights
A Cool Way to Combat Ebola
December 15, 2014
Healthcare professionals who are treating Ebola patients protect themselves from virus exposure by wearing Personal Protective Equipment (PPE), including double-layer gloves, coveralls, and boots. Imagine what that must feel like to those who are on the front lines of the Ebola outbreak in West Africa's hot temperatures. Changing equipment offers brief relief, but it's a lengthy process and potentially puts workers at risk of infection each time their skin is exposed.
Ebola virions (PLos Biology, doi:10.1371/journal.pbio.0030403.g001)
In an effort to make PPEs more comfortable to wear for longer periods of time – and to keep the risk of exposure at bay – Intellectual Ventures' Global Good program is partnering with the US Agency for International Development (USAID) to identify and evaluate rapidly deployable personal microclimate cooling solutions that can be worn underneath existing PPE.
A wide range of approaches will be needed to ultimately put the Ebola outbreak in check – from vaccines to education to new healthcare technologies. Learn more about efforts to combat the Ebola outbreak from:
The Centers for Disease Control and Prevention