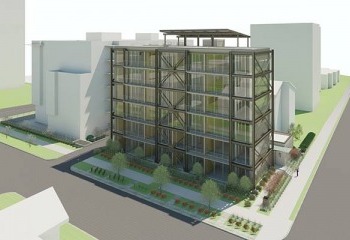 Insights
A New Way of Building
September 4, 2014
Intellectual Ventures invests in inventions that span a wide range of technologies – communications, computer hardware, security, and more. Today we rolled out a new case study and video highlighting our investment in a different kind of technology area: building construction.
Where is the need for innovation in a business that has followed traditional building practices for hundreds of years?
From residential neighborhoods to urban centers, growing populations and demands on resources are forcing a shift in the way we build. Seattle-based architecture firm CollinsWoerman and the team behind their affiliate Sustainable Living Innovations took that challenge as an opportunity to invent a solution that delivers significant improvements over customary construction techniques. They developed an advanced method that uses a kit of prefabricated components to improve building quality, reduce maintenance, and make building faster, cheaper, and more sustainable.
To support implementation of their new technology in global markets, CollinsWoerman teamed up with Intellectual Ventures' Invention Development Fund. We're now working together in a joint venture called Innovative Building Technologies, LLC to protect, develop, and market the component-based building system and emergent related inventions.
Watch a short film about the joint venture.