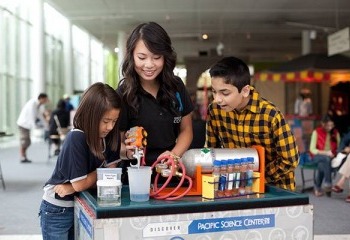 Insights
Back to School with STEM
August 28, 2013
If you could start school from scratch, knowing you'd have access to 21st century technology, would you have pursued the same academic path? We tossed this question over to our Facebook community. Elisabeth said, "NO!!!!!! I would've been a comp sci major in a heartbeat!" Facebook fan Shane said, "I would have studied IP law."
There is no way to predict the changes that technology and new innovations will bring in the next 5, 10, or 20 years, but there is no question that science, technology, engineering, and math (STEM) will be critical fields for our increasingly technological workforce.
One of the most important elements of modern education is demonstrating how STEM disciplines apply to the careers of tomorrow. Intellectual Ventures employees mentor young people in learning how to apply a STEM education to real world jobs—whether as an inventor, a designer, or a patent attorney.
Seattle's Pacific Science Center Discovery Corps program is one beneficiary of IV's STEM-focused grants. Discovery Corps is a youth development program that teaches teens how to inspire a lifelong interest in science, math and technology—in both themselves and others. Corps members Alex and Leoma aren't shy to share what has helped them most during their scholastic journey. We recently asked Alex and Leoma what advice they have for fellow STEM enthusiasts who are heading back to school. Here are their top five tips:
Searching and exploring are the best ways to find your passions and interests.
Delve into your own interest and learn to love it. See if there are ways that you can mix what you like to do with something in the STEM field.
Learn how and where to turn your interest into a career. Seek out companies that emphasize your interest; look for programs or internships in the same field. There is something out there for every STEM area.
Find something you think is really wrong with the world and fix it.
Don't ever let the fear of striking out keep you from playing the game.
Those are just a few of Alex and Leoma's insights into pursuing STEM. Read an in-depth interview with these Discovery Corps students on Project Eureka!
Photo courtesy of Pacific Science Center