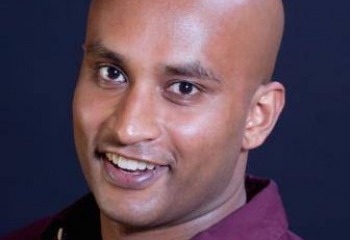 Insights
Behind the Breakthrough: Dhileep Sivam
September 15, 2015
On this week's Behind the Breakthrough, we're profiling Dhileep Sivam, a Senior Manager of Special Programs at IV. Dhileep's held a number of roles at IV since he joined in 2011, but right how he works directly with IV CEO Nathan Myhrvold on paleontology, asteroid detection, mathematical modeling, and more. Here are some of his reflections:
On his advice for young learners:
"I always tell any motivated young person to go out there and survey the landscape. Read about music, philosophy, engineering, and everything else that has an impact on this world. Some of the greatest discoveries happen at the intersection of numerous fields, including some that you would never guess overlap. And the more you know about different subjects, the more you can identify what is important and how they connect. This is a vital skill for even the most technical of people, who might not see how history, literature, and other humanities help them. But I promise they do. Being well-rounded makes you think differently. It expands your mind."
On working with Nathan Myhrvold:
"Working with Nathan has been a one-of-a-kind experience. I don't think I've ever worked with someone who can grasp so many topics so quickly. One of the things that I observed in grad school is there are two different thinking styles: depth-wise thinking and breadth-wise thinking. Depth-wise thinkers like to delve deep into the details of a specific project. Breadth-wise thinkers are more interested in the broader landscape of things. Nathan is one of the few people I know who is both a breadth-wise and depth-wise thinker."
"I've also learned so much from Nathan, like that you shouldn't be afraid to dive into new and unfamiliar topics. I've seen him delve into subjects that he wasn't originally familiar with by simply reading as much as he can about an issue and talking to the right experts. Working with him has shown me that there are questions in almost every field that no one has ever asked, even the experts."
On the process of problem solving:
"Before IV, I worked on a comparative genomics project, where I looked at a variety of very similar parasites that cause diseases like malaria. I wanted to find out why some of these parasites make people really sick and why other very similar ones, for whatever reason, don't. At first, the questions we had seemed unsolvable. But after we broke the problem down in structured ways, we noticed patterns that ultimately started to make sense. The process involves systematically approaching a seemingly incomprehensible system and finding a way to understand its dynamics."
"We work similarly at IV, starting with very complex problems at an early stage and figuring out unique ways to approach them. The difference is that IV has a team that can accomplish almost anything. For example, when someone formulates a potential solution to a complicated issue, IV's lab and machine shop can physically create that solution, even if it's highly elaborate. It's one of the unique things about IV – seeing the process of developing an idea from the earliest stages to the end. It's the only place I know where that happens regularly."
Follow our Behind the Breakthrough series by subscribing to our IV Insights blog, and check out more quotes from inventors and scientists on our Facebook and LinkedIn pages.