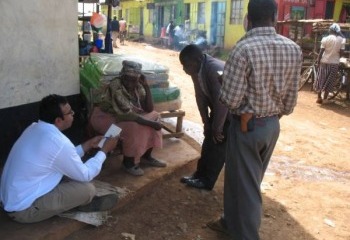 Insights
Behind the Breakthrough: Manan Shukla
July 9, 2015
This week's Behind the Breakthrough profiles Manan Shukla, an associate commercialization lead at Global Good. Manan was born in a small village in India and was raised and educated in the United States. He draws on his early years in India as he travels throughout Africa to speak with farmers and improve the products designed for them.
Prior to Intellectual Ventures, Manan worked as a management consultant for Booz Allen Hamilton in Washington DC, San Diego, and Hawaii. His background in finance and business helps him to look at the viability of the IV Lab's inventions on a global scale. He finds it gratifying to distribute the next breakthrough to those who need it most.
Here are some of his reflections:
On his role at IV:
At Global Good, I focus on commercializing the technology that's developed at the IV Lab. We make really cool products that are novel and benefit society. Prior to my current role, I was involved early in our work on milking and its transportation. This role in particular took me to Africa on multiple occasions to meet with farmers, hear and see their challenges, and implement the product based on what we learned. Over the last three years, I've been able to visit nine countries in total and my job at IV has truly been a life-changing experience.
On the biggest challenge he faces:
Creating a useful new technology is already challenging enough, but then we have to figure out sales and distribution and ultimately get it into the right hands. To accomplish all of this, we have to survey the landscape diligently to ensure that the product will even be used. This involves studying the entire value chain, learning the gaps, and coming up with ideas that are well-suited for accomplishing specific challenges in countries. But all of this pays off! When you do the hard work and break down every angle, that's when you make the biggest impact.
On what inspires him:
Global Good's work inspires me. We are a mission-driven organization that aims to make lives easier all over the world. It really grounds me when I meet with end-users and hear their feedback about our work. They are excited about what we are doing because it positively impacts them. For example, we've heard from numerous people who are so grateful for having vaccines because of our passive vaccine storage device, Arktek. And dairy farmers consistently tell me that our work will improve their farming and livelihood. Meeting our end-users makes me realize that what we do matters. It's inspiring. It's why I always tell people that I have my dream job.
Follow our Behind the Breakthrough series by subscribing to our IV Insights blog, and check out more quotes from inventors and scientists on our Facebook and LinkedIn pages.