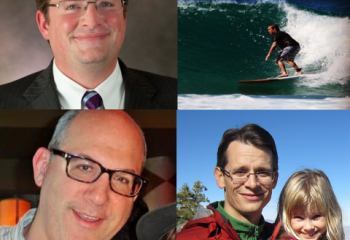 Insights
Celebrating National Inventors Month with Insights from Behind the Breakthrough
May 14, 2015
At Intellectual Ventures, inventors – and their ideas – are integral to our mission of furthering the invention economy to drive innovation around the world. So in March, we premiered a new series called Behind the Breakthrough to highlight the people behind the ideas. In this post, we take a look back at a handful of the conversations we've had to showcase the inventions that sparked our discussions.
Clockwise from L to R: Dr. Gregory Phelan, Mike Manion, Jake Russell, Dr. David Paranchych
You'll see that though the following inventors differ greatly in their areas of interest, all have a vision for the future of invention. Take a look:
Invention focus: Finding alternatives to BPA-based polymers for food packaging, baby bottles, and other products.
Position: Associate Professor & Chair of the Chemistry Department, State University of New York College at Cortland
"I think the future of invention will involve interdisciplinary teams of subject matter and invention experts working on a problem instead of traditional R&D teams sequestered in an isolated laboratory. Crowdsourcing and cooperative problem solving are powerful and engaging tools for innovation. If we can think of best ways to harness that creative energy, we can make very significant and disruptive technologies sooner rather than later."
Invention focus: Leveraging his background in biology and physiology to invent to solve big problems.
Position: Inventor & Portfolio Investment Manager and Consultant to IV's Invention Development Fund
"Beyond the general love of inventing, I'm an inventor because I want to create things that deliver important value to society. My team and I strive to make a meaningful impact wherever we can – the medical world, materials, energy, anywhere. So my work is something I love to do and it makes the world a better place. It's a great combination."
Invention focus: Developing new software.
Position: Invention Development Manager, Intellectual Ventures
"The youngest inventors are, in fact, kids of any age who are interested in how things work. My advice for them is to find something you're passionate about and pursue it creatively. With a hands-on approach, you can easily experiment to increase your knowledge – and that process is the very first step to being an inventor."
Invention focus: Improving cellular networks – including working with CDMA and LTE technology.
Position: Engineering Director, Intellectual Ventures
"Creating a new idea is always a challenge. The good news is you don't have to do everything on your own. Teamwork offers the opportunity to bounce new ideas off of others. Plus, teamwork can bring people with entirely different backgrounds together to invent something exceptional. For example, one person might have expertise in wireless communication and another in cloud computing. Put them together, and what can't they do?"
If you missed their full profiles, be sure to check out the links above. To get the latest updates on our Behind the Breakthrough series, subscribe to our IV Insights blog, and check out more quotes from inventors and scientists on our Facebook and LinkedIn pages.