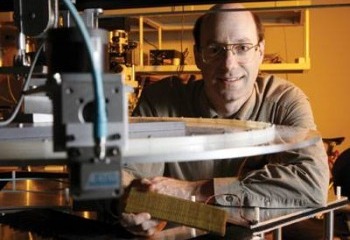 Insights
Dr. David R. Smith Joins IV to Commercialize Metamaterials Inventions
January 21, 2013
Intellectual Ventures has the world's leading portfolio of metamaterials intellectual property thanks in part to work with pioneers in the field like Duke University's Dr. David R. Smith and Imperial College's Sir John Pendry. After almost a decade of development in this area, we launched a spin-out company – Kymeta Corporation – to commercialize the metamaterials satellite antenna designed and prototyped in our lab. While Kymeta marked an important step for our work, our pipeline of metamaterials inventions didn't stop with satellite antennas.
In fact, the evolution of metamaterials and their ability to meet and drive market demand makes this an opportune time for us to transition more of our inventions from the lab to the marketplace. We knew we needed a unique talent to lead this effort. Luckily, we also knew just the right person for the job.
Starting this month, Dr. David R. Smith has joined Intellectual Ventures as the acting director of our Metamaterials Commercialization Center. David, alongside Dr. Tom Driscoll, will grow IV's technical resources and capability to develop IV's metamaterials inventions. Once developed, these inventions may be licensed or spun-out as separate companies. IV has begun hiring additional engineers and scientists to support this work and will expand our relationships with metamaterials researchers around the world.
Join us in welcoming Dr. Smith to IV, and stay tuned for more news about our metamaterials work.