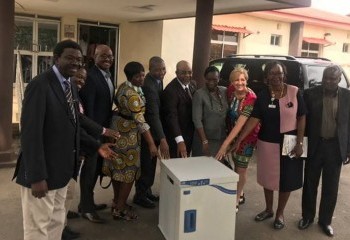 Insights
Empowering Health Workers When Power is Unreliable
August 20, 2019
Global Good recently donated three INCUTIGIT-SV 30 biological culture incubators to the Governor's office of Lagos State. The incubators will undergo field-testing in Lagos ahead of a full deployment throughout Nigeria later this year.
When managing the spread of potentially deadly illnesses, two key factors are paramount: Knowing who is infected, and with what disease. In many parts of the world, health care specialists diagnose patients by taking biological samples and running culture-based microbiological tests. But in areas with an unreliable power grid, samples can be ruined before they ever reach a microscope—leading to inaccurate diagnoses.
A new incubator designed to withstand fluctuations in power is expected to increase confidence in culture-based testing, especially in low-resource settings. Following its initial research and development of the incubator, Global Good worked with JP Selecta of Spain to manufacture the market-ready INCUDIGIT-SV 30 incubator device. Global Good is now partnering with commercialization consultants ImedReads and medical device distributor Astra Instruments to make the incubators available in areas where they are urgently needed.
Dr. Fitilayo Goncalves, permanent secretary for the Lagos State Ministry of Health, and Professor Fabanwo, chief medical director at the Lagos State University Teaching Hospital, received the incubators from Global Good team member Elana Robertson.