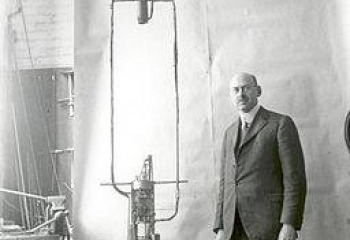 Insights
Failing for Success: Robert Goddard
February 16, 2016
"Every vision is a joke until the first man accomplishes it; once realized, it becomes commonplace." – Robert Goddard
By NASA (Great Images in NASA Description) [Public domain], via Wikimedia Commons
Robert Goddard knew failure and setback all too well. Goddard – the inventor who first successfully developed and fired a liquid-fueled rocket – is today widely hailed as a brilliant innovator with more than 200 patents to his name. But when he first proposed the idea of liquid-fueled rocket propulsion in space, he was widely mocked as naïve and ignorant. Even a New York Times editorial ridiculed the idea: "Professor Goddard… does not know the relation of action to reaction, and of the need to have something better than a vacuum against which to react. Of course he only seems to lack the knowledge ladled out daily in high schools."
Harsh criticism wasn't all Goddard had to handle. Almost every prototype rocket he flight-tested failed at one point or another due to engine or control breakdowns, a fact that he actually embraced wholeheartedly. Refusing to label bad experiments as failures, Goddard typically referred to them as "valuable negative information."
During the late 1930s, for example, Goddard was developing very large rockets that he believed could reach high altitude. He developed an innovative engine for the rockets that cooled itself with its own excess gasoline, but he couldn't get the design to work in practice. Though it was a practical failure, he took what he learned and developed a smaller design – the L-13 rocket – which ultimately became his highest-altitude rocket, peaking at 9,000 feet in the air.
Goddard responded to the New York Times editorial – which the publication officially redacted three days before the first moon landing, 49 years after its initial publication – with a simple and now historic quote: "Every vision is a joke until the first man accomplishes it; once realized, it becomes commonplace." Goddard's vision did become commonplace. Today rockets are essential components for space exploration, satellite communications, fireworks, and other aspects of modern life.
Robert Goddard is an extraordinary example of someone first considered a failure, and indeed someone who repeatedly failed and embraced it, who became an unequivocal success.
Have any suggestions for our next "Failing for Success" story? Give us a shout on Twitter, Facebook, and LinkedIn. And don't forget to subscribe to our IV Insights blog and check out our Behind the Breakthrough profiles to hear first-hand from top inventors, innovators, and more.