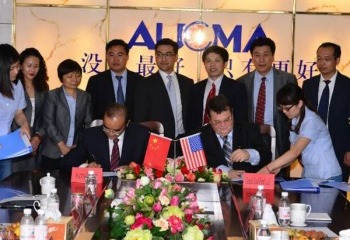 Insights
Forward-looking Partner in China
December 11, 2013
As my colleague Yan Sheng highlighted in his recent post, Invention East-West, Chinese companies are quickly catching up with their peer companies around the world. Several Chinese companies are also taking on challenging projects and investing and making long-term commitments in and for the developing world. One such company is AUCMA, one of China's leading refrigeration companies and our partner in the commercialization of Global Good's vaccine storage invention for use in developing countries.
Global Good, the organization I lead here at Intellectual Ventures in collaboration with Bill Gates, has a clear and singular mission: use invention to improve life in developing countries. AUCMA saw the importance of this project and the potential impact we could make together on the developing world.
Forward-looking commercial partners like AUCMA play a vital role in Global Good's mission to improve life in developing countries through the power of invention. AUCMA has the expertise and scalability needed to help this device extend the vaccine supply chain in even the most remote parts of the world, and to do so at the lowest cost-per-fully-immunized-child possible. Thanks to AUCMA, Global Good's vaccine storage device will make a tangible impact on the lives of people in developing countries.
Back in July of this year when we originally announced this collaboration, AUCMA Chairman Li Wei said:
"Global Good is a natural partner for AUCMA. Their revolutionary vaccine storage device fits perfectly with our expertise in medical cold chain equipment and their emphasis on catalyzing markets for social good aligns with AUCMA's own belief in social responsibility. We look forward to a long, productive relationship that sparks a new level of innovation for the vaccine supply chain in developing countries."
The vaccine storage device will undergo additional field testing in Africa before broader manufacturing and distribution in 2014. With only a single batch of ice, it can store up to 300 doses of vaccines or enough to serve a community of 6,000 for more than a month. The device is also equipped with technology to monitor its location, internal temperature and the number of times vaccines have been retrieved from it. This information can be communicated via daily SMS transmissions and downloaded through a USB port to inform future vaccination campaign planning.
Despite breakthroughs in vaccine funding, research, and manufacturing, limitations in the supply chain contribute to more than 1 million childhood deaths each year from vaccine-preventable diseases. Vaccines simply aren't reaching everyone they need to, which means their full lifesaving potential isn't being realized. By addressing some of these supply chain issues, our device will help change that. It's just one piece of the vaccine supply chain puzzle, but we believe it can be a catalyst to unlock existing potential and improve immunization coverage in even the hardest to reach areas.
We apply this same catalytic approach in a more indirect way as well, which we hope will incentivize more inventive companies like AUCMA to consider issues in the developing world. Getting our inventions to these countries sometimes requires us to build new markets that can sustainably commercialize the technology. To do this, we connect manufacturers, buyers, and sellers with the specific goal of making our technology affordable and accessible in developing countries. These markets may be created to deploy our inventions, but there's no reason they can't work just as well for other companies with similar interests in these countries. In this way, we hope to lead by example and highlight opportunities at the intersection of technology, business, and social impact.
These are ambitious but attainable goals for a young organization like Global Good, but neither Bill Gates nor Intellectual Ventures have ever accepted anything less from their work. Our agreement with AUCMA is an important step in this journey that reaffirms our vision for a world that unleashes its full inventive power to solve humanity's toughest problems. And we are grateful to be partnering with one of China's most forward-thinking companies. We look forward to sharing the results of our work with AUCMA.