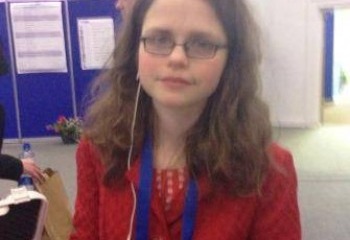 Insights
From Ireland to Bellevue: 2015 BT Young Scientist & Technology Exhibition Winner Visits IV
August 4, 2015
The potential of young inventors to change our world is truly unlimited. Take for example, Elle Loughran, a teenage inventor from Ireland. Even by exceptionally bright young inventor standards, Elle stands out. Her work on developing a biosensor that could help to diagnose certain types of brain tumors won her the IV Insightful Invention Award at the 2015 BT Young Scientist and Technology Exhibition.
And Elle's award didn't just come with a nice plaque. She also received a trip to the United States to visit IV and see the best we have to offer in the Pacific Northwest. For part of her four-day trip, Elle toured IV's facilities, which included an up-close view of the photonic fence and passive vaccine storage device, Arktek, and spent some time with members of our staff and executive team, including Senior Vice President of Corporate Communications and Marketing Mona Locke and President and COO Adriane Brown. She also made time to meet with executives at Intel and explore a few Seattle landmarks.
Want to see a behind-the-scenes look of Elle's trip? Check out her blog, which includes a detailed recap of virtually every stop on her journey.
At IV, we are committed to mentoring the next generation of inventors, scientists, and innovators. Our support for science, technology, engineering, and math (STEM) education motivated our sponsorship of the BY Young Scientist and Technology Exhibition and its mission to cultivate and nurture the future of scientists and engineers.
We can't thank Elle enough for making such a long and jam-packed visit half-way around the world. We enjoyed hosting her at our Bellevue headquarters and as it turns out, her first visit to the United States. Here's to hoping we'll see Elle more often on this side of the pond and to encouraging a bright future for the young inventors and scientists who, like Elle, are making our world a better place.
For more on Elle's and other young scientist's projects, check out coverage of the 2015 BT Young Scientist and Technology Exhibition in the Silicon Republic. You can also read more on other young inventors we admire in "News You Can Use: Young Inventors Transforming Society."