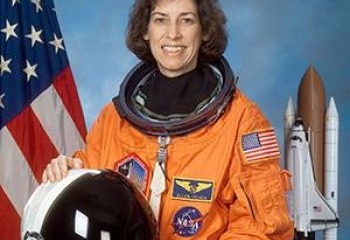 Insights
From the Archives: Inventor Superhero Ellen Ochoa
August 27, 2015
When we think about our favorite Insights topics, we can't pass up Inventor Superhero Ellen Ochoa. This incredible inventor was the first Hispanic woman in space, and she ultimately spent more than 700 hours on missions outside of our planet. Her last mission was in 2001, and she now serves as the director of the Johnson Space Center. And much like IV President and COO Adriane Brown and many other accomplished women in STEM fields, she encourages students to believe in themselves and follow their dreams.
Ellen Ochoa: NASA astronaut, mission specialist. Photo by NASA [public domain], via Wikimedia Commons
Inventor Superhero: Ellen Ochoa, Ph.D. (1958-present), director of the Johnson Space Center
Superpowers: Optics: Ochoa is a co-inventor on three patents that help scientists refine images that come from space — she invented an optical inspection system, an optical object recognition method, and a method for noise removal in images. Ochoa can also fly planes and play classical flute.
Eureka! Moment: First Hispanic woman in the world to go to space. Ochoa served on a nine-day mission aboard the Discovery shuttle in 1993 to study the Earth's ozone layer.
Cool Gadget: Robotic Arm: On several flights, Ochoa operated a robot arm that helped transfer clothing, computers, and medical equipment from the shuttle to the International Space Station.
Superhero Lair: NASA's Johnson Space Center in Houston, Texas
Nemesis: School bullies who think girls can't succeed in science, engineering, technology, and math (STEM)
Who's your favorite inventor superhero? Let us know who we should profile next at @IVinvents.