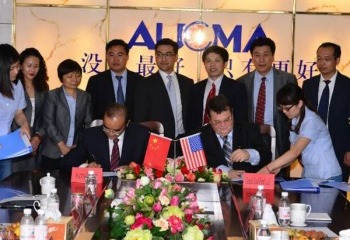 Insights
Global Good Signs First Commercialization Agreement
July 8, 2013
Global Good announced today that we have partnered with AUCMA—a leading refrigeration company—to manufacture and distribute our vaccine storage invention in the developing world. This is the first such agreement for Global Good and, as my colleague Geoff Deane notes, this accomplishment marks a significant milestone for a project that began more than four years ago with the goal to help lifesaving vaccines reach children in developing countries. Thanks in large part to those years of dedication and ingenuity at IV Lab, we are now one step closer to realizing that goal.
Beyond the technical accomplishments involved, the agreement is also a significant milestone in Global Good's growth as an organization. We measure success by lives improved in developing countries, not by profit. Because of this, we rely on a coalition of commercial, NGO, and government partners with the complementary skillsets needed to translate our inventions into impact. For commercial partners like AUCMA, collaboration with Global Good offers access to technology and capabilities that strengthen their business. For us, agreements like these ensure our inventions find their way to those who need them most and, equally important, catalyze innovation and social impact that goes well beyond our own work.
This concept of "catalytic invention" is an important piece of Global Good's long-term vision. We believe that the world has the tools and inventiveness needed to solve some of humanity's toughest problems, but much of that potential remains locked behind technology or market barriers. Our focus is on finding opportunities where invention can help address these barriers and open the floodgates for the world's full inventive power to reach developing countries. It's much like finding the one domino among a broader pattern that, when tipped, triggers a reaction that's far greater than any one piece on its own.
Take our vaccine storage device for example. Despite breakthroughs in vaccine funding, research, and manufacturing, limitations in the supply chain contribute to more than 1 million childhood deaths each year from vaccine-preventable diseases. Vaccines simply aren't reaching everyone they need to, which means their full lifesaving potential isn't being realized. By addressing some of these supply chain issues, we hope that our device will change that. It's just one piece of the vaccine supply chain puzzle, but we believe it can be a catalyst to unlock existing potential and improve immunization coverage in even the hardest-to-reach areas.
We apply this same catalytic approach in a more indirect way as well, which we hope will incentivize more of the world's inventive companies to consider issues in the developing world. Getting our inventions to these countries sometimes requires us to build new markets that can sustainably commercialize the technology. To do this, we connect manufacturers, buyers, and sellers all with the specific goal of making our technology affordable and accessible in developing countries. These markets may be created to deploy our inventions, but there's no reason they can't work just as well for other companies with similar interests in these countries. In this way, we hope to lead by example and highlight opportunities at the intersection of technology, business, and social impact.
These are ambitious goals for a young organization like Global Good, but neither Bill Gates nor Intellectual Ventures have ever accepted anything less from their work. Our agreement with AUCMA is an important step in this journey that reaffirms our vision for a world that unleashes its full inventive power to solve humanity's toughest problems. We look forward to sharing the journey with you.