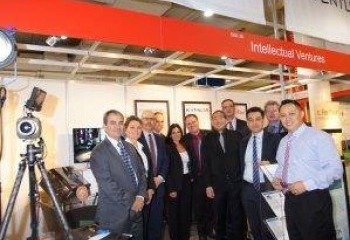 Insights
Hannover Messe Recap: Innovating Beyond Borders
May 12, 2016
Intellectual Ventures was honored to represent the United States at the Hannover Messe, the world's largest industrial-technology trade show. We'd been invited to exhibit there by the U.S. Department of Commerce, and we think we did the U.S. proud. We demonstrated technologies from three of our funds and hosted a reception that drew more than 500 people from many different countries and industries ranging from robotics to manufacturing and defense.
Several members of the Intellectual Ventures team at Hannover.
Most importantly, the event served as a proof point for a theme that IV has embraced since its founding: that all the world's economies depend on one another when it comes to innovation. President Obama emphasized that theme in the speech he made at the start of the show, remarking that the "spirit of innovation" turns ideas into jobs everywhere.
IV's innovating spirit looks beyond our own shores to where the need for innovation is greatest. That's clear from the inventions we showcased at the Hannover Messe: a portable refrigeration unit for vaccine transport in developing countries, an insect-zapping "fence" for disease prevention, and several others. Lots of companies and inventors are targeting the U.S. market; we take a global perspective, and so do our partners and customers.
IV has always had a global focus. We built a whole fund around the idea of linking customers worldwide with inventors in dozens of different countries. Our Invention Science Fund (ISF) works with more than 100 of the world's top inventors, including 11 of America's top 50 inventors. Global Good addresses important issues in developing countries such as women's, maternal, and child health; dairy-sector development; and disease screening and diagnosis. Our lab pursues breakthroughs that have the potential to become spin-out companies with far-reaching impact. And ISF recently signed a deal in Israel to launch an innovation incubator that will commercialize inventions in the medical-technologies and e-health markets.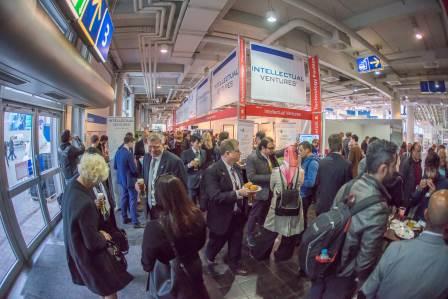 Guests mingle at IV's Hannover Messe reception.
Not surprisingly, our global footprint drew a lot of interest at the Hannover Messe. At the reception we hosted, we got to talk further about the unique role we play in supporting the vast infrastructure that catalyzes invention around the world. People are beginning to realize they need someone like us to help their inventors reach the places where they're needed most and to find the inventions that will help them solve complex problems.
Without a worldwide portal to innovation supply and demand, whole countries and their inventors risk being left out of the global economy. That's why people from all over the world flock to events like the Hannover Messe. And that's why they're coming to depend on IV. We're better positioned than anyone else in the world to connect the global supply of innovation with the global demand for it. With our unique approach to innovation, we're able to leverage the value of the network effect—that essential connection to the universe of invention.