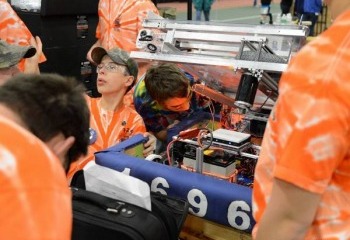 Insights
Help a Student "Go Pro"
April 18, 2013
"I joined the Washington FIRST board because the four levels of robotics programs, starting in elementary school and going through high school, are the coolest ways I've seen of connecting kids to science and technology in a hands-on way," Geoff said.
This year, through FIRST programing, 8,000 youth in Washington state made the connection between STEM coursework and STEM career possibilities. Dozens of men and women from IV were proud to volunteer, and they happily gave countless joules of their own energy to guide student-run teams as they designed and built Frisbee™-flinging robots with the mechanical prowess and trademark FIRST flair to compete in the "Ultimate Ascent" Washington regional competitions.
IV-sponsored teams didn't come away with the gold, but they all made amazing bots and were true champions of the innovative spirit. In fact, Auburn Mountainview High School, mentored by Ken Poppe of IV's Invention Development Fund, received the Chairman's Award—FIRST's highest honor given to the team that best embodies the FIRST spirit—and an opportunity to compete in the National FIRST competition.
Through corporate support and volunteerism, IV guides students on the path to entering the STEM workforce and 'going pro'. The more support teens receive from mentors, the greater their chances will be of joining the STEM big leagues. Washington FIRST is always in need of more mentors and volunteers. It's worth your time, and we'll be the first to share why:
5 Reasons IV Supports FIRST
"Mentors are a vital component of the FIRST Robotics organization. They are engineers and business people teaching skills like coding, good design methods, organization, safety procedures, or as I like to call it retaining all your fingers." Charles Delahunt, IV Lab

"Auburn Mountainview High School's relationship with our sponsors was a key reason we received the Chairman's Award in Spokane. Most importantly, support plays a key part in the process of bringing the sometimes difficult courses in science, technology, engineering, and mathematics to life for students." Tim Scott, AMHS teacher and FIRST mentor

"I want to engage and inspire students in potential careers in science, technology and engineering, and I want to teach our students the value of hard work, teamwork and professionalism." Zihong Guo, IV Lab product development; Bellevue HS mentor

"I have a 10 year old daughter and a 7 year old son, and I want to help keep science and math accessible to them, and to help them see how technology can unlock the world around them." Geoff Deane, vice president of IV Lab; Washington FIRST board member

"Science and technology are near and dear to my heart. Being a part of FIRST allows me to help give opportunities to future generations that I could only dream of when I was their age. Seeing these young people learning and practicing 'gracious professionalism' is a heartwarming and powerful experience—and an important lesson that will help them succeed no matter what field they eventually find a career in." Trish King, IV systems technology group; Glacier Peak HS mentor
Photo: Trish King/Washington FIRST