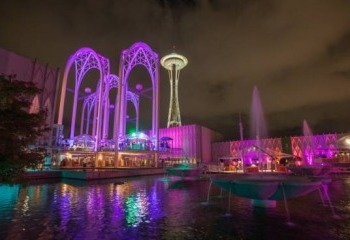 Insights
Igniting Curiosity in Discovery: Pacific Science Center and the Festival of the Fountains
July 28, 2016
As a company committed to fostering a culture of innovation, we're always looking for ways to support that same enthusiasm throughout the communities in which we live, work and play. On July 22, 2016 a group from Intellectual Ventures (IV) joined in the celebration at the 50th annual Festival of the Fountains under the historic arches of the Pacific Science Center to do just that.
Photo credit: Seattle Met, view the photo album here.
More than 500 people attended the gala which brings together members throughout the STEM (science, technology, engineering and mathematics) community to celebrate the Science Center's mission to inspire a lifelong interest in science, math and technology for all.
IV is proud to be a longstanding supporter of the Science Center, with our president and COO Adriane Brown serving as the secretary of the board of directors. Most recently, Adriane served as the event chair for the 13th annual Foundations of Science Breakfast, to help raise over $300,000 for the Science Center to continue their work to empower tomorrow's innovators for generations to come.
Inspiring the next generation of inventors – and STEM advocates – is a shared passion of Adriane, IV and the Pacific Science Center. As Adriane once told a classroom of young women:
"The workforce of the future is going to revolve around STEM, and you can be the leaders of that movement. If you don't give up on yourself, we won't give up on you."
So in the true spirit of Adriane's sentiment, in just a couple of weeks we'll welcome a group of young people from the Science Center's Discovery Corps program to take an inspiring tour of the IV Lab, as we've done for the past few summers.
Subscribe to our newsletter to stay up-to-date with IV in the Community.