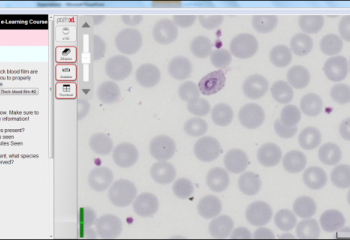 Insights
Intellectual Ventures Develops the First Offline Virtual Malaria Microscopy Training Course
April 24, 2018
The World Health Organization-approved eLearning tool can be used regardless of Internet access.
There are more than 200 million cases of malaria worldwide every year, with roughly half a million deaths. While some populations are equipped to confront the malaria threat, many countries still face significant barriers in both early detection and healthcare provider training and support. Intellectual Ventures' Global Good Fund is using science and technology to invent new solutions to reduce barriers to global health, especially in the fight against malaria.
To address a need for accurate malaria diagnosis, we are pleased to be working with Amref Health Africa, the largest Africa-based nonprofit organization delivering health services to over 30 countries on the continent, to provide a new accessible tool for laboratory professionals and health workers: the Worldwide E-Learning Course on Malaria Microscopy (WELCOMM).
As microscopy remains a major method for identifying malaria parasites in patients' blood, continuing education is essential for microscopists to improve their skills to achieve accurate results and to prepare for WHO certification exams. Classes are traditionally delivered through in-person re-training courses, which can be difficult to access for health workers from remote, rural areas and technicians in busy laboratories.
In 2017 Global Good partnered with microscope industry leader Motic to develop the EasyScan Go, an internet-networked, artificially intelligent microscope that automatically scans, identifies and counts malaria parasites. The EasyScan Go is expected to help healthcare workers manage malaria through accurate Plasmodium parasite detection and monitoring during treatment.
To implement the project, the Global Good team -- with generous contributions from malaria research partners across the globe -- compiled a large digital library of malaria microscope slides to train the EasyScan Go's core machine-learning algorithm. And now microscopists across the world can use images from that same library within a self-directed eLearning course incorporating virtual microscopy software provided by PathXL, a leading virtual microscopy development group.
This in-service eLearning course is available on a standard USB drive, so microscopists can access it regardless of geography or ability to access the Internet. All they need is access to a computer.
The course is designed to be consistent with WHO standards, and incorporates instructional content in five modules:
Introduction to malaria and global epidemiology
Blood collection, preparation and staining of blood films
Blood film examination, including all malaria species and other blood parasites
Non-microscopic methods for diagnosing malaria
Laboratory quality management systems.
Pre-testing was performed in 11 countries across Africa, Asia and South America, and our hope is that through partnerships with organizations like Amref Health Africa, this eLearning tool will make quality malaria services more accessible, no matter where a patient or provider is located.
For more information on the Worldwide E-Learning Course on Malaria Microscopy (WELCOMM), please visit www.amref.ac.ke.