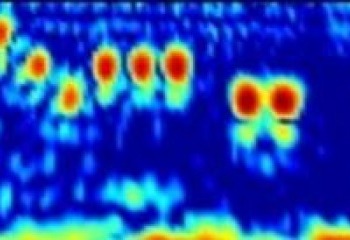 Insights
Invention Science Fund Partnering with NAMIC to Create New 3D Printing Technologies
September 13, 2016
There's hardly an industry 3D printing doesn't promise to revolutionize. From rocket engine injectors to life-like prosthetics, it's undeniable that 3D printing, or additive manufacturing, is a huge field of technological opportunity.
An ultrasonic scan of a 3D-printed stainless steel block shows a pattern of voids (red dots) printed beneath the surface. The voids are clearly visible, and simple image processing software can read the pattern – in this case, an 8-digit embedded code.
As a global inventions company, Intellectual Ventures (IV) is proud to collaborate with institutions that are similarly committed to building a global innovation ecosystem. Recently, IV's Invention Science Fund (ISF) partnered with National Additive Manufacturing Innovation Cluster (NAMIC) to further develop 3D printing machine and service capabilities with a wide-range of potential market applications.
Located in Singapore, NAMIC is led by NTUitive, the innovation and enterprise company of Nanyang Technological University, in partnership with the National University of Singapore, Singapore University of Technology and Design, Nanyang Technological University, SPRING Singapore, Economic Development Board and National Research Foundation under the Prime Minister's office. "We're extremely proud to partner with the fantastic organizations in Singapore," said Jerome Hewlett, ISF vice president, "as we continue to establish a pioneering future together."
Formed in the fall of 2015, NAMIC seeks to foster public-private sector collaboration and innovation in the 3D printing marketplace while strengthening Singapore's manufacturing sectors, a significant percentage of the nation's gross domestic product. NAMIC is also focused on building and catalyzing an ecosystem for the growth of new businesses and business models with 3D printing technologies, enabling start-ups as well as small and medium enterprises with cost-effective 3D printing solutions for adoption in their companies.
Dr. Ho Chaw Sing, managing director of NAMIC and NTUitive, noted that "3D printing will transform the way we manufacture products and distribute them to the customers. Our collaboration with Intellectual Ventures is focused on methodologies and solutions in the digital supply chain as it becomes more ubiquitous in the manufacturing world."
ISF and NAMIC collaborated on the development of an Embedded Identifier Module (EIM), a technology that allows 3D printers to watermark unique identifiers within a variety of materials. The initial EIM development was implemented in stainless steel. Built on intellectual property held by IV's ISF, the EIM is nearly impossible to remove or alter and can be read by a variety of readers or sensing methods. "With counterfeiting increasing globally, this technology has the potential to help safeguard authenticity, which stands as a growing concern for businesses and consumers alike," said Casey Tegreene, ISF executive vice president.
"This project addresses what will become important issues as the 3D printing market matures, issues relating to anti-counterfeiting measures," explained Dr. Lim Jui, CEO of NTUitive. He went on to say, "We are thrilled to be working on this project with Intellectual Ventures and even more thrilled that the project has yielded such excellent results in such a short time."
To learn more about how we use 3D printing at IV Lab here in Bellevue, check out this post. And follow along for more news about the future of transformative technologies like additive manufacturing.