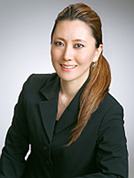 Insights
Inventor Spotlight: Aya Seike, Electrical Engineering Expert
April 27, 2011
In our newest Inventor Spotlight, we introduce Aya Seike, an electrical engineering expert and visiting researcher at the Institute for Nanoscience and Nanotechnology at Waseda University in Tokyo, Japan.
She's part of Intellectual Ventures' global network of inventors, and she's submitted more than 30 invention disclosures to us so far. In addition to being an inventor, she mentors other inventors across a variety of disciplines through her informal brainstorming sessions called Open Innovation Cafe and also leads seminars explaining how to invent with quality and clear goals.
She believes, as do all of us at Intellectual Ventures, that inventors have the power to change the world. Take a few minutes to read our newest Inventor Spotlight about Aya Seike, and learn how she was inspired to become an inventor and why she believes Intellectual Ventures helps empower female inventors in Japan.