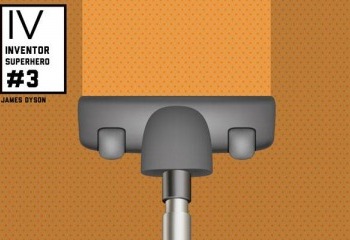 Insights
Inventor Superhero: James Dyson
October 23, 2014
Our latest inventor superhero embodies what it is to be a venturer. Unhappy with the status-quo, he spent five years and developed more than 5,000 prototypes in his quest to create the world's first bagless vacuum. Through his company Dyson, he's been innovating ever since on everything from cyclone technology to bladeless fans to digital motors.
But perhaps more impressive is his commitment to inspiring young people to pursue invention. "Because right now," he says, "it's these bright young minds that offer a glimpse at the engineering stars of the future."
Inventor Superhero: Sir James Dyson, (1947-present), British inventor, industrial designer and founder of the Dyson company
Superpowers: Dyson has enabled people around the world to take their vacuuming to the next level. And because he's also a former student at the Royal College of Art, his inventions look pretty slick, too. In fact, his early prototype was manufactured in bright pink and won the 1991 International Design Fair prize in Japan.
Eureka! Moment: Disappointed with the performance of his own vacuum and its continually clogging dust bag and resulting lack of suction, Dyson came up with the idea of a bagless machine that uses cyclonic separation to create a vacuum that won't lose suction as it picks up dirt.
Cool Gadget: The "G-Force" cleaner, based on his 1986 patent 4,593,429, was the first bagless, dual cyclone vacuum. In the years since, the G-Force has been the technological inspiration for a series of subsequent versions, including the Dyson Ball — a vacuum cleaner that rides on a ball.
Superhero Lair: The Dyson headquarters in England
Nemesis: Copycats. In 2002, Dyson was awarded £4M in damages from Hoover for infringing the patent on Dyson's dual cyclone cleaner.
Who's your favorite inventor superhero? Let us know who we should profile next at@IVinvents.