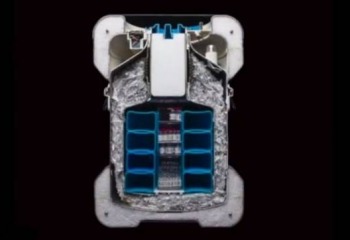 Insights
It's What's Inside That Counts: the Arktek Revealed
January 18, 2017
In this video, we'll show you how we told the story of the magic behind — or rather inside — the Arktek™, which received a USPTO Patents for Humanity Award in 2016.
In order to produce these visuals, our team develops cutaways, or diagrams and prototypes with some external parts left out to reveal the inside. You may already be familiar with the Modernist Cuisine team's use of cutaways to depict their work. After all, the best way to show the science of cooking is to see what's actually going on inside the pot. And while these Modernist Cuisine photos are perhaps the most prominent cutaways – on display in museums as part of a traveling exhibit and in several cookbooks – we also use them to tell stories of our life-saving inventions.
A few years ago, for an exhibit in the Bezos Center for Innovation at the Museum of History and Industry (MOHAI), our team created a cutaway of Global Good's Arktek. The vaccine storage device can store a month's supply of vaccines for a village of 6,000 people in 100 degree plus heat, without electricity. The innovative technology was developed by our team of inventors, rocket scientists, industrial engineers and health experts to save lives in countries with the lowest immunization rates in the world.
Want more inside scoop of the goings on at IV? Be sure to subscribe to our newsletter and follow us on Twitter.