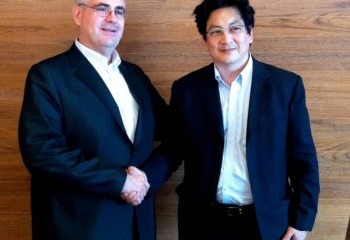 Insights
IV and Chunghwa Picture Tubes, Ltd. to Collaborate on IP Strategy
July 25, 2011
Today we announced our latest customer, Chunghwa Picture Tubes, Ltd. (CPT), one of Taiwan's leading LCD technology companies (Image: Senior Vice President of Licensing Don Merino of IV with General Counsel Marcus Woo of CPT). The breadth of CPT's agreement with IV highlights the progressive stance the company is taking toward the strategic management of its intellectual property. You can read our press release for a basic outline of the set of agreements with CPT, which includes access to our portfolio of more than 35,000 IP assets and membership in our IP for Defense program.
The agreements extend beyond just licensing. CPT will also work with IV to discuss the ways our invention process and our global network of more than 3,000 inventors in 10 countries could collaborate with CPT to develop technology that will benefit them in the future. As part of the ongoing collaboration, IV and CPT could share certain aspects of our respective technology visions and discuss areas where we could collaborate on new inventions. CPT could harness the brainpower and resources of our inventors to tackle short-term technical issues that may require fresh thinking, or long-term technologies that will hit the market in five to 10 years.
These agreements also set the stage for IV to access and help monetize some of CPT's own intellectual property. As one of the world's leading developers of LCD and other flat panel display technologies, CPT already controls a very valuable portfolio of IP. By entrusting IV to monetize some of that IP, CPT can more efficiently manage its overall IP strategy and dedicate more resources to R&D, sales and marketing for its products.
CPT joins a growing list of IV customers who understand the value of a progressive IP strategy. Inventions and the act of inventing are part of IV's core, and the opportunity to collaborate with CPT on future technologies will open doors to new discoveries for both companies.