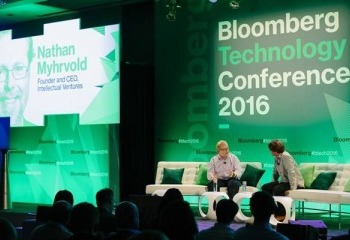 Insights
IV CEO Nathan Myhrvold Keynotes Bloomberg's Top Tech Conference on Invention
June 23, 2016
Intellectual Ventures founder and CEO Nathan Myhrvold set the stage as the opening keynote interview with journalist Ashlee Vance during last week's annual Bloomberg Technology Conference that focused on inventors and invention in San Francisco, CA.
Nathan Myhrvold speaks with Ashlee Vance at the Bloomberg Technology Conference. Photo credit: Peter Prato
Featuring the likes of Omid Kordestani, Twitter Chairman; Drew Houston, CEO of Dropbox; and Michelle Lee, Under Secretary of Commerce for Intellectual Property and Director of the U.S. Patent and Trademark Office, the conference set a spotlight on companies and tech luminaries from around the world striving to be more inventive and explored the cultures and environments that foster invention.
Nathan spoke on a variety of topics including exciting breakthrough technologies to watch for the future, flying cars, and the energy marketplace. Nathan also shared about how Intellectual Ventures goes about inventing and gave some tips on what it takes to be a good inventor:
The invention process is intentional. There's value in setting out to invent something.
Solving problems is best done with teams with diverse backgrounds and experience.
Setting impossible goals is sometimes easier than setting mild goals.
Knowing why things fail is really important. If we know why it fails, we can fix it.
Watch the full interview now on Bloomberg Live.
See more and listen in on Nathan's follow-on radio interview by following these links on IV's Twitter, Facebook and LinkedIn pages.