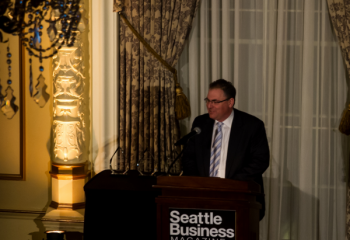 Insights
IV CFO awarded for Executive Excellence
January 27, 2014
Russell L. Stein, Intellectual Ventures' CFO, was honored last week by Seattle Business Magazine with a 2014 Executive Excellence Award, among fellow C-suite leaders who have played a vital role in the success of Washington State's businesses and philanthropic organizations.
Photo: John Curry Photography
Russell first joined IV as executive vice president and CFO in 2010, bringing nearly 20 years of experience at financial institutions, including Merrill Lynch and Morgan Stanley. He currently directs IV's financial strategy and oversees investor relations - or what he aptly describes to Seattle Business as "betting on inventions, not on companies."
For all their contributions state-, and company-wide, we congratulate Russell and each of the Seattle Business Magazine 2014 Executive Excellence Award Winners.