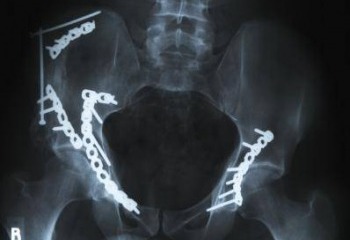 Insights
IV Collaborates on New Pelvic Fracture Surgery with Top Canadian Research Organizations
November 6, 2012
Around this time last year I was involved in a serious motorcycle accident that left me in the hospital with multiple broken bones, including a severely fractured pelvis. I was lucky to have one of the world's best surgeons treat my injuries, spent long hours in rehabilitation, and fortunately recovered from the accident much faster than initially expected. Regrettably, many others who suffer this injury are not so lucky—the mortality rate associated with severe pelvic fractures can be as high as 60%.
During my recovery, I learned a lot about this particular injury, the risks of its treatment, and how the body reacts to and heals from catastrophic injury generally. Those are among the reasons I am so proud that today the Invention Development Fund (IDF), which I run here at IV, is announcing a collaboration with the University of British Columbia (UBC) and BC Cancer Agency (BCCA) to develop a new treatment for pelvic fractures.
IDF will provide funding, know-how, intellectual property, and hands-on collaboration with UBC - one of the top research universities in the world - and the BC Cancer Agency to develop new ways of dealing with the very real trauma and remarkably high mortality rate associated with pelvic fractures.
As I know firsthand, pelvic fractures are extremely serious and extremely painful. Recovery can be especially challenging and surgical treatment for the injury is incredibly difficult and risky. The treatment we are working on with UBC and BC Cancer Agency offers a safer and less invasive method for setting the bones and treating the fracture which will help accelerate treatment and recovery times. By working with IV, UBC and the BCCA can more efficiently move this technology beyond the research lab and into practice. I feel privileged to be part of a team that invests in inventions and breakthroughs that could help people like me safely get back up on their feet, faster and with less pain.
Our collaboration with UBC began in January, 2011 and this is just one of a number of new inventions we're developing in a variety of technology areas. The relationship we have with UBC is indicative of the strong working relationships IV has with many of the world's leading academic and research institutions - more than 400 at last count. Intellectual Ventures and IDF will continue to work closely with the world's best universities on new research, new inventions, and the development of prototypes and products based on the potentially life-changing discoveries made at these universities.
---