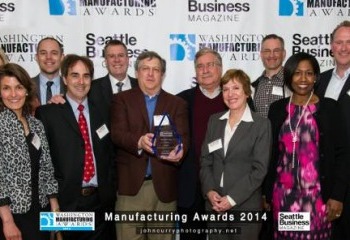 Insights
Kymeta Wins Manufacturing Award
April 30, 2014
Despite incredible advances in the last decade, satellite communications still frequently fail to deliver dependable Internet access, particularly while people are on the move - think planes, trains, boats, and automobiles. Historically, satellite communications required physical mechanisms to constantly steer an antenna in order to maintain a link with satellites. This is not a simple operation at a speed of 5 knots or 500 mph.
Photo of the Kymeta and Intellectual Ventures team at Seattle Business Magazine's Washington Manufacturing Awards 2014.
But Kymeta, Intellectual Ventures' (IV) second spin-out company, might just crack the code for instant broadband service, anywhere in the world. Using cutting-edge metamaterials technology to electronically and dynamically steer a beam toward a satellite, Kymeta's mTenna products use no moving parts. Not only does that make for a flatter, thinner and lighter antenna, it's also more efficient and less expensive than traditional power-hungry satellite communication technologies.
Kymeta has had a string of recent successes, beginning late last year by demonstrating the first ever metamaterials-based antenna internet connection over a satellite link. More recently, they were nominated for GeekWire's annual Innovation of the Year Award, the results of which will be available in early May.
And just last week, Seattle Business Magazine awarded Kymeta Emerging Manufacturer of the Year, describing the company as "making the shift from an R&D company to a manufacturer, with an eye toward commercial introduction in 2015."
A manufacturing award like this represents an important recognition for IV's business model as well. We are a company that brings promising inventions to market through our spin-outs, as well as selling and licensing our extensive portfolio of intellectual property. This path to commercialization may not square with the industry's convenient definition of a "non-practicing entity," but then, we're not like everyone else.