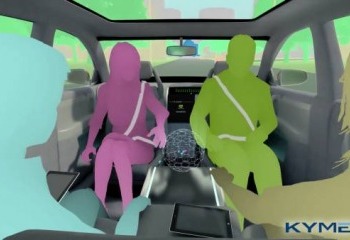 Insights
Kymeta's Latest: Blazing a Trail Toward Total Connectivity
February 22, 2017
Stephen Hawking once remarked, "We are all now connected by the internet, like neurons in a giant brain."
Image courtesy of Kymeta
Technology has enabled us to achieve a higher level of global interconnectivity than ever before. Yet even in our modern world of smartphones and wireless internet, there are still loose ends – those places around the world where connectivity is still limited. Kymeta, an IV spinout, is working to change this by delivering on what connectivity is meant to be – secure, available, universal and global. Harnessing the power of metamaterials, Kymeta is creating high-speed, global connectivity that can be easily accessed on land, out to sea, or high in the sky.
Since our last post about Kymeta's mTenna™ technology, the company has made major moves worth sharing. Its innovation over the last several months have propelled it one step closer to delivering accessibility from the furthest corners of the Earth, including today's announcement that its 20 cm mTenna™ successfully connected to the Intelsat S.A. satellite constellation.
Fast Company named Kymeta one of 2017 "World's Most Innovative Companies"
Congratulations to Kymeta for being named to Fast Company's top-10 most innovative companies in space earlier this month. "Anyone whose DIRECTV has dropped out during a flight will appreciate Kymeta's flat-panel antennas, which use electronic steering to connect with low and medium earth orbit satellites and provide broadband speeds for fast-moving vehicles. Train commuters would no longer have to rely on cellular towers and cargo ships would gain access to improved navigation features. Even your car could get better connectivity," said Fast Company on the impact of Kymeta's technology.
Kymeta to bring high-speed connectivity to civilian armored vehicles
This month, Kymeta announced plans to work with Aurum Security GmbH to bring Kymeta mTenna™ satellite connectivity to VIP and civilian armored vehicles (CAV). This means high bandwidth connectivity can be accessed by VIPs, government officials and royalty no matter where they are in the world.
Kymeta Delivers Sustained Industry-First Performance Levels during the Monaco Yacht Show
During the week of the Monaco Yacht Show, Kymeta put its mTenna™ to the test on the water. The Technology performed with great success, demonstrating how well it could deliver connectivity to mega-yachts, cruise ships and commercial vessels alike. "We are laying a strong foundation for our maritime market launch and it is exciting to share these results with our partners and customers," said Håkan Olsson, vice president of Maritime, Kymeta.
Kymeta and TECOM Bring Antenna Technology to the Aviation Market
Kymeta has partnered with TECOM to help deliver its mTenna™ technology to airlines and service providers. Kymeta's satellite antenna technology offers a lightweight, low profile and low maintenance antenna that significantly cuts operational costs of aircraft connectivity by reducing the drag, weight, and maintenance compared to current aircraft satellite terminals.
Kymeta's Dr. Nathan Kundtz receives nominee for Via Satellite Executive of the Year
Kymeta CEO and founder Nathan Kundtz was nominated for Via Satellite's Satellite Executive of the Year. Via Satellite refers to Kundtz as "an executive on the rise, shaking up our industry."
Stay connected to Kymeta's world of connectivity by following them on Facebook, LinkedIn and Twitter.