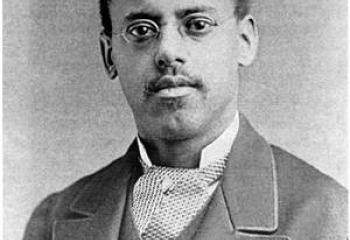 Insights
Lighting the Way: Lewis Howard Latimer
February 9, 2016
In honor of Black History Month and Thursday's National Inventors' Day, we wanted to profile the incredible story of Lewis Howard Latimer. A groundbreaking inventor and draftsman, Latimer made amazing strides on inventions that remain crucial to our everyday – like the light bulb.
Image by Unknown - http://www.lrc.rpi.edu/resources/news/pressReleases/img/Lewis.jpg, Public Domain, https://commons.wikimedia.org/w/index.php?curid=2032528
Lewis Howard Latimer was an African-American inventor and draftsman. After serving in the U.S. Navy during the Civil War, Latimer gained employment as an office boy with a patent law firm. He learned to use a set square, ruler and other tools, quickly becoming a skilled draftsman. His boss recognized his talent for sketching patent drawings and eventually Latimer was promoted to head draftsman.
In 1876 while a draftsman at Alexander Graham Bell's patent law firm, Latimer was asked to draft the necessary drawings required to receive a patent for Bell's telephone. Latimer later left Bell's law firm when he relocated with his family to Connecticut; there he was hired as an assistant manager and draftsman for the U.S. Electric Lighting Company, owned by Hiram Maxim, a rival of Thomas Edison.
In the early 1880s, Latimer received patents for several inventions surrounding the light bulb and electric lamps. His most famous patent was the "Process of Manufacturing Carbons," which was an improved production method for carbon filaments used in light bulbs. This new process for creating a carbon filament was an improvement on Thomas Edison's original paper filament that would burn out quickly. In 1884, the Edison Electric Light Company in New York City hired Latimer as a draftsman and expert witness in patent litigation on electric lights. Latimer also coauthored a book titled Incandescent Electric Lighting - A Practical Description of the Edison System.
Lewis Latimer became an inductee of the National Inventors Hall of Fame for his work on electric filament manufacturing techniques.
For more incredible stories of African American inventors, check out our recent post, the Hallowed Ground of African American Invention.