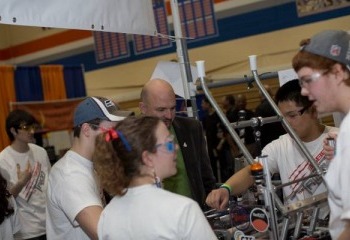 Insights
Move Along Stark Industries. Washington FIRST Robotics Rules the Robot World
March 27, 2014
"Robot! Robot!" Walk the halls of a high school in Washington state and you'll likely hear this chant as Washington FIRST Robotics teams wheel hand-made robots from the maintenance pit to the arena (aka gymnasium). Though it may be a few years away from having the kind of March Madness style brackets and recognition, the remote-controlled bot games rival the excitement and passion of any basketball championship.
*Geoff Deane, vice president of Intellectual Ventures and Washington First board chair, checks out a team's robot.
A "varsity sport of the mind," Washington FIRST Robotics competitions help high-school-aged youth discover how dynamic and rewarding the life of engineers, scientists, and researchers can be. The competitions call upon teams of young people to solve a common challenge by building robots from a standard kit of parts.
"As we say, in FIRST every student can go pro," said Geoff Deane, Intellectual Ventures Lab vice president and general manager. Deane volunteers as the Washington FIRST board chair. "FIRST is one of the coolest ways I've seen of connecting kids to science and technology in a hands-on way."
Intellectual Ventures has been a dedicated sponsor of Washington FIRST programs for several years now. In additional to financial support, our employees volunteer as team mentors, sharing their expertise in everything from engineering to fundraising and team leadership.
Kay, president of IV-mentored Team 2907 at Auburn Mountainview High School, says mentors play a big role in helping her team succeed. "Mentors are a huge part of our team; we honestly could not do this without them. Students build the robots, but our mentors guide us, teach us, and help us with strategy."
You would think that building an Ironman-like robot would be the top of any FIRST student's agenda, but watch the competition and you'll see that these teens have the energy, enthusiasm, and intelligence that drives them well beyond comic books and blockbuster movies.
"If I was to build a robot, it would be to improve healthcare," said Hannah, Iron Rams Team 4304 participant. "It would be able to dispense medicine to older people so they wouldn't have to worry about remembering when to take their medicines."
That's the spirit of innovation that Intellectual Ventures believes in, and we're excited to watch what brilliant ideas this next generation of inventors and engineers will come up with next.
Catch a live stream of the FIRST competition action, and view our FIRST photo gallery on Facebook.