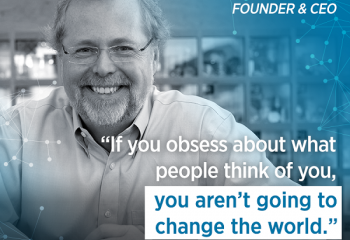 Insights
Nathan Myhrvold at GeekWire Summit 2016
October 11, 2016
Intellectual Ventures founder and CEO Nathan Myhrvold joined journalists Tom Bishop and Alan Boyle last week for a "fireside chat" at the 2016 GeekWire Summit. The conference brought together more than 800 thought leaders to explore technological advancements and the future of innovation.
With hundreds of leading technology experts in attendance – from top executives at companies like Expedia and Microsoft, to a former NFL wide receiver – the conference highlighted a diverse set of visionaries striving to transform the world through new ideas.
Although covering a wide range of topics, Nathan touched on the importance of metamaterials, investing in invention, and the vast potential for technological innovation to improve the lives of those in need. Nathan illustrated how IV's business model has led to numerous breakthrough spinout companies, focusing specifically on the newest addition to the list, Xinova.
Here are some of our favorite quotable moments from Nathan's remarks:
On the importance of investing in invention: "Many companies have been created from venture capital firms. Most of them have failed. But that's fine. You don't count the failures; you only count the successes. I want someone to do that for invention – I want it to be easier to create inventions."

On how new ideas emerge: "Every great idea starts off as a spark. We live in a society that has been completely technologically transformed by ideas that worked out."

On why criticism is part of being a risk-taker: "If you obsess about what people think of you, you're never going to change the world."

On inventing for impact and the work of IV's Global Good program and Institute for Disease Modeling: "The tech industry that makes the tools and toys that have transformed all of our lives. But, we didn't actually need our lives transformed. It's not life or death for us to get the next version of the iPhone… whereas for the 2 billion people living on $2 a day or less, if we could use technology to improve their lives, that could be life or death."

On Seattle's strong global development community: "Seattle is absolutely the Silicon Valley of saving the world."
Watch the full interview here.