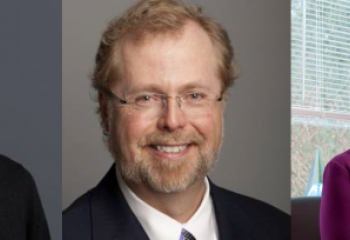 Insights
News You Can Use: Intellectual Ventures in the News
December 17, 2015
From L to R: Edward Jung, Nathan Myhrvold, Adriane Brown
In our final News You Can Use of 2015, we're highlighting some of the recent buzz around our employees and our creations.
NPR highlights Global Good's Arktek
Keeping vaccines cool without electricity is a major challenge in the developing world, and Global Good has a solution. The Passive Vaccine Storage Device, or Arktek, can keep vaccines at the appropriate temperature for significant periods of time without any electricity. National Public Radio recently profiled the Arktek, covering the science behind the technology and its use in the Ebola vaccine trials and more.
IPWatchdog interviews Edward Jung
The U.S. has dominated the innovation landscape for more than a century. This was the message from IV co-founder and CTO Edward Jung in his comprehensive interview with Gene Quinn from IPWatchdog. Check out the interview to hear more of Edward's thoughts on the importance of funding innovative startups and R&D for American economic competitiveness.
Ideagen interviews Nathan Myhrvold
IV founder and CEO Nathan Myhrvold recently sat down with George Sifakis from Ideagen to discuss the benefits of innovation and collaboration. He also outlined some of the critical work undertaken at IV Lab and Global Good, such as disease modeling and medical diagnostics.
Adriane Brown named a top innovator
Speaking of innovation, IV President and COO Adriane Brown was named as one of the leading female innovators by Culture Shift Labs. You can learn more about Adriane and her remarkable career, including her commitment to mentoring young girls and women, in this MIT Technology Review article from earlier in the year.
For more stories like this one, subscribe to our IV Insights blog, and check out more news on our Facebook and LinkedIn pages.