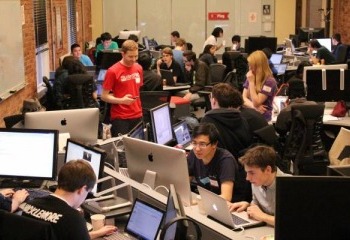 Insights
Next Gen Inventing: StudentRND and CodeDay
May 20, 2015
24 hours (straight). 25 cities (at once). More than 10,000 innovative youth setting their minds to developing something new (in teams). What could be better for the future of invention?
At Intellectual Ventures, we take pride in mentoring the next generation of inventors. So when an event commits to jumpstarting a lifelong interest in inventing among students, we're quick to take notice.
IV proudly sponsors StudentRND's CodeDay, which is happening this weekend, beginning at noon on May 23 and running for 24 hours straight in 25 cities around the country simultaneously. This fantastic event brings together coders of all experience levels to form teams to work on new ideas. But the best part of CodeDay is its ability to create networks for young people with common interests. These communities offer support for students as they continue to invent.
Last month, we featured Pat Pataranutaporn in our Behind the Breakthrough series. Pat is a biology student and an active inventor at Arizona State University, and he recently participated in a CodeDay. Here's what Pat had to say about the value of the StudentRND and CodeDay networks:
"To me, invention means creating something that is good for humankind in any form, whether it's abstract like a computer algorithm or something more solid, like a robot. Invention ideas are often improved with collaboration and StudentRND is really helpful because it provides such a powerful community. Being surrounded by people who share similar inventing interests is both beneficial and inspiring."
During National Inventors' Month, it's especially important to keep the inventors of the future top-of-mind. Mentorship and STEM education play important roles in continuing to encourage young people to pursue their most innovative dreams. IV encourages everyone to support and encourage the young inventors in their lives.
Want to learn more about CodeDay or find an event in a city near you? Check out their FAQ.
The image and video featured in this post are courtesy of StudentRND.