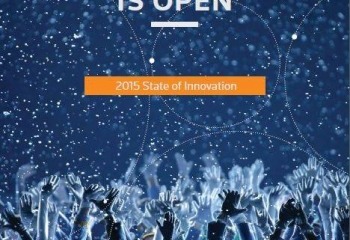 Insights
Reuters Reports: Innovation is at an all-time high
June 23, 2015
At IV, we believe that innovation, intellectual property, and a thriving economy are all interconnected. We aren't alone. The "2015 State of Innovation" report from Thomson Reuters explains the importance of innovation for a growing economic future. "Innovation is global and is at the heart of the global economy," the report says. But that's not all. The report also makes clear that intellectual property, and specifically patents, are vital instruments for companies and the economies they benefit.
Image courtesy of Thomson Reuters. Their full report can be viewed here.
Here are some more details and quotes from the report:
Companies increasingly invest in innovation:
"Innovation is at an all-time high."
This is important. The more companies that consistently invest in innovation, the greater likelihood of new findings to improve society and change the world. At IV, we use an innovative spirit to develop novel technologies to fight Ebola, eliminate Malaria, and so much more.
Patents are an asset class:
"Patent information has become an increasingly strong indicator of a company's value, especially as companies work to reduce their time-to-market cycles."
Adriane Brown, IV's President and COO, expands upon this point by explaining that the vast majority of C-suite executives believe that patents are good for innovation. We've even personally profiled an industry executive who explains why intellectual property is an "intangible asset" for business growth.
Collaboration is key to innovation:
"Open innovation is alive and well, backed by the proof that companies across nearly every sector are collaborating with academic institutions, individual researchers and others to bring their ideas to market more quickly. Given the fast pace of global innovation, it is no longer possible for individual organizations to innovate solely on their own. By leveraging that which has been done before and partnering with organizations that may solve for one aspect of an invention, companies are able to go to market more quickly and meet consumer demand for faster innovation time cycles."
We couldn't agree more. That's why IV utilizes innovative collaboration every single day, partnering with inventors, clients, and our extended team in our quest to invent meaningful solutions.
Intellectual diversity drives innovation:
"The final innovation trend identified is the bleeding of organizations into tangential areas, outside of their traditional areas of expertise. Driven by the Internet of Things, the need to remain competitive and the quest to exceed shareholder expectations, more and more companies are extending their reach into related fields, bringing their unique specialization to new areas."
"Unusual combinations" should probably be our middle name. We believe that an interdisciplinary model of innovation produces huge benefits. That's exactly why we promote invention inside and outside of the lab through our army of innovators who often participate in our intellectually diverse invention sessions.
Want to learn more? Check out our Behind the Breakthrough series to hear first-hand from IV inventors and innovators about the importance of innovating for the future.