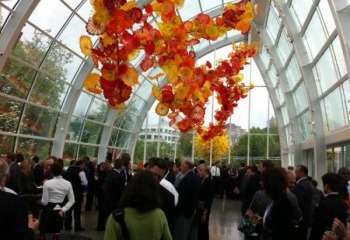 Insights
Seattle Hosts Licensing Executives Society
May 22, 2013
Last week, our fair city of Seattle hosted the Licensing Executives Society (LES) annual Spring Meeting. LES is an independent, professional organization that facilitates global IP commerce, and their conferences always mark an important event in Intellectual Ventures' calendar for the insight they offer into issues that span industries and invention areas.
This year was no different. The topics at the conference ranged from IP collaborations in China to life science acquisitions. Attendees and speakers came from fields just as diverse – from the Bill & Melinda Gates Foundation to Sanrio.
I was pleased to join speakers from Microsoft, IBM, and Weyerhaeuser to discuss the secondary market for patents. Each of us reviewed how sophisticated the market is becoming for buying and selling IP assets as more business leaders recognize the value of their patent portfolios.
We saw this theme of an expanding secondary market repeat itself in between sessions as well, as many people we spoke to at the conference agreed:
The secondary market is strong, and is likely to increase in the second half of this year
More IP deals are being done with multiple buyers (e.g. as a consortium)
IP deals are better structured than in the past and more often brokered by third parties
Open source licensing (in buy & sell arrangements) is increasing
The question which is important to many (especially to a start-up) is whether their IP should be kept a trade secret or should be patented.
Our thanks go to the organizers and fellow sponsors of LES - we are already looking forward to next year's conference.