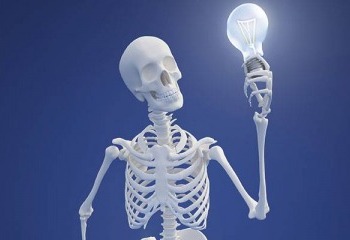 Insights
Six Spooky Halloween Inventions
October 30, 2014
Ideas are brewed here at Intellectual Ventures every day. While we're usually devising inventions to solve big problems, 'tis the season to let imaginations run wild. So, we've concocted a list of Halloween-related inventions to spook up your holiday spirit. Take a look at a few inventors' more frightening and festive creations:
Fog Machine
Will patent #5,676,886 transform your porch into an ethereal trick-or-treating zone? Halloween wouldn't be the same without clouds of fog billowing as you enter a haunted house. Read the patent description to learn about the innovation behind this Halloween horror effect.
The "Batty Bat"
There are many spooky creatures that find a habitat in your front yard during Halloween, but nothing says scary like a ginormous bat hanging from your house. Patent #5,285,898 has an adjustable wingspan and realistic features to guide brave trick-or-treaters straight to your doorstep, or perhaps running in the other direction.
All together now: "One two three spread out the wings..."
Illuminated Carrying Device
Decorations are a must, but tools to ensure a happy and safe trick-or-treating experience for little ghosts and goblins deserve a spot on the list. Patent #6,059,423 does just that, serving as a light-up bag to collect candy so you can remain visible while making street crossings.
Pumpkin Carving Kit
These tools are everything you need to make your pumpkin the best in the neighborhood. Varying in shape, size, and texture, you can think outside of the template jack-o-lantern triangle eyes and jagged teeth. Tools such as patent #4,828,114 could help you gut the most ghoulish gourd on your block.
Halloween bonus from IV Lab: Watch what happens when a freeze-dried pumpkin gets dropped from a 20' person lift:
Halloween Portable Container
Patent #7,594,669 is designed to help you celebrate Halloween to the fullest. With an ability to store large amounts of goodies, and a push or pull feature, you can more easily help your little ones haul their candy stash from block to block.

Invisibility Cloak
Seeking a clever costume? Perhaps you'll be the one to invent the accessory everyone will want in their wardrobe – an invisibility cloak. Start researching metamaterials technology now, and you could be frightening everyone with your presence – or rather absence – at a future costume contest. For other inventive costume ideas, take a look at what our employees wore in Halloweens past.
Have a spooky invention to add to this list? Let us know @IVInvents. Happy Halloween!