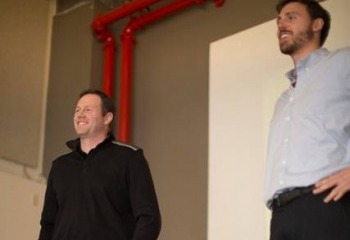 Insights
Starting Up a New Partnership
November 11, 2013
At IV, we believe startups have the power to drive innovation, fuel economic growth and shape the future of business. Those beliefs were amplified Thursday night as we officially launched a partnership with Seattle's SURF Incubator and their 60-member startup businesses.
Bill Thomas (on left) speaking next to Neil Bergquist (on right), Director at SURF Incubator.
Roughly 150 members of the region's startup community came out on a stormy evening to hear Geoff Deane, myself and SURF leaders Seaton Gras and Neil Bergquist talk about the significance of invention, entrepreneurship and intellectual property.
The message I hoped to convey? That people and ideas are your company's most valuable assets. It is important that entrepreneurs understand the patent ecosystem and have a plan to both protect and harness the value of their inventions.
Intellectual Ventures promotes innovation and strongly supports invention; we want to help startups throughout all stages of their growth lifecycle, encouraging them to build on their innovations, face market challenges, and grow their businesses such that they may ultimately thrive and succeed in today's highly-competitive knowledge economy.
I personally believe that patents matter whether you are a tech giant or an early stage startup. Through our discussions with SURF members and others in the startup community, we have found that most share that same belief. In a survey of SURF's 60 member companies, more than 60% said that patents were important or very important to their business. The CEO's of these businesses told us that they want to know more about:
What is, and is not, patentable in their business

The key factors of protecting their IP

The process and costs of protecting their IP

Determining if their technology already exists or is patented by another company

Navigating the patent system
Over the coming months, we'll be conducting ongoing activities with SURF members, to lend our expertise and support in helping them address these key needs. At the same time, we'll continue our efforts to support businesses of all sizes, helping foster innovation and economic growth – in Seattle, and in the world.