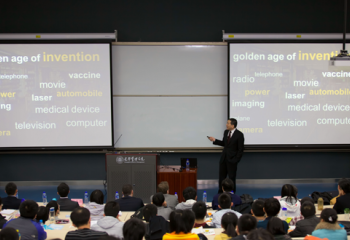 Insights
Students of Invention: Edward Jung Visits Beijing's Peking University
March 21, 2011
The lecture hall was standing-room only at Beijing's Peking University as our co-founder and CTO Edward Jung spoke to 300 students about the importance of invention on March 10th. Several members of our IV-China office also couldn't resist attending the lecture.
In addition to stressing the necessity of invention, Edward explained that great ideas will be needed to address major problems being faced by the students' generation. From challenges with healthcare and energy to ecological stress and China's economic growth, great ideas will be necessary to sustain their country's future.
Edward challenged the students to overcome the fear of failure, which can prevent brilliant minds from becoming prolific inventors. Drawing from personal examples, he made the case that failure can be a great starting point, and a few successes can more than make up for the failures. He encouraged students to seek out situations that will allow them to fail and learn from their mistakes. After a brief Q&A session, students and professors stayed behind to mingle with Edward and the IV team, and discussed topics including methods of invention and IV's operations in China.