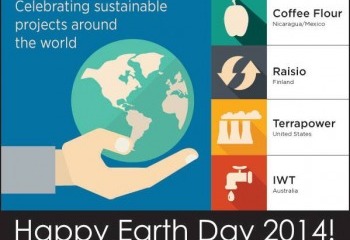 Insights
Sustainable Invention
April 22, 2014
The world's population is growing by roughly 200,000 people every day, in the midst of a massive global migration underway from the countryside to cities. With this much pressure on our food, water, and energy resources, Earth Day marks another important reminder of the massive investments in invention needed to make entire economies more sustainable.
Intellectual Ventures' President and COO, Adriane Brown, often remarks that, "We believe in invention not just as an economic opportunity, but as a distinctly human characteristic that empowers us to improve our world." At IV, we have had the opportunity to spinout, launch, partner, and collaborate with companies that are focused on producing more with less.
For example:
For more information on how to add your "act of green" and show your support for Earth Day, visit http://www.earthday.org/takeaction/ or follow #EarthDay on Twitter.