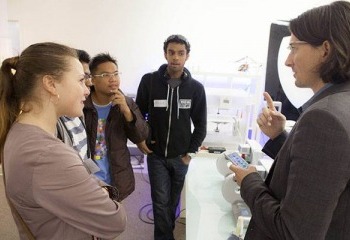 Insights
Young Entrepreneurs Follow Their Dream Career from Malaysia to Silicon Valley
March 3, 2014
New ideas are only as promising as the people who are willing to explore them, test them, build them, and share them. In October 2013, 540 young entrepreneurs from over 100 countries dedicated 36 hours to exploring ideas at the Global Startup Youth (GSY) competition in Kuala Lumpur, Malaysia. Their goal: invent a mobile app solution for pressing problems in education, environment, health, and women's empowerment.
Photo: Members of the winning Global Startup Youth team pitch their mobile career app to Singularity University's Rob Nail. Credit: Singularity University
Intellectual Ventures Founder and CTO Edward Jung was there to deliver the keynote address. He met a team of seven young men and women—from Canada, France, Malaysia, New Zealand, Russia, and the U.S.—who had an idea for an app that could help people find their dream career.
The team named their app "Milestone." Using an intelligent algorithm, it compares users' career plans with the trajectories of role models and offers them recommendations for the future.
"Our app helps young people around the world find their dream job," said team member Maria Shunina. "Our team, with our app, won the competition."
"Winning GSY was personally a great moment for me and also a life-changing moment," said teammate Alfred Junco. "I saw the process of creating the world-changing idea and continuing on with it at the same time."
Jung also saw the spark of ingenuity and creativity in the team and their application, and like Junco, he wanted them to 'continue on with it.' He arranged an opportunity, co-sponsored by Intellectual Ventures and UpGlobal, for the team to test the waters of entrepreneurship in the Bay Area.
During a special trip to Singularity University, the team learned about future computing, artificial intelligence, robotics, and 3-D printing technologies. And, to practice pitching their own tech innovation, they talked about their winning mobile app with Singularity Founder and CEO Rob Nail.
IV hopes the team's experience will inspire them to keep innovating.
"Ultimately, young entrepreneurs are the people who will buck the status quo and who will have the power to disrupt stagnant markets," said Jung. "They are the ones who will make tomorrow globally better than today."
Hear more from the GSY team on Project Eureka.