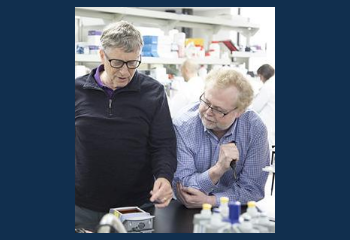 Insights
IV's Global Good Fund: A Legacy of Impact Invention
September 2, 2020
Building on a decade of success, IV is pleased to announce that Global Good projects have transitioned to the Bill & Melinda Gates Foundation and Gates Ventures.
Technology is the most potent form of magic our society has. Why shouldn't you be able to harness that for the people who need it most?
- Nathan Myhrvold
In 2010, with funding from Bill Gates and focused on a shared vision with Nathan Myhrvold, Global Good was established to invent technologies to address some of humanity's most daunting problems. Pursuing a goal of inventing for humanitarian impact, Global Good envisioned a world where no one suffers from conditions or issues that science and technology has the power to prevent or treat, regardless of where they live.
With a team of some of the best and brightest minds in science, engineering, public health, and product development, Global Good focused its sights on inventing affordable, accessible and appropriate technologies for low-resource settings and lending its homegrown IP to incentivize industry partners to bring their products to market. For ten years, its work was fueled by collaboration with leading research institutions, corporate and private sector partners, humanitarian organizations, and forward-looking governments.
Grounded in deep multidisciplinary collaboration, Global Good's inventors, scientists and engineers worked untethered by the bounds of a more traditional structure—and in specially designed workspaces inside the IV Laboratory—to take risks, fail fast and adapt quickly for more rapid development of refined solutions. From areas as wide ranging as ultra-sensitive malaria assays to cervical cancer diagnostics Global Good team members also made significant research contributions and published over 1,000 peer reviewer papers.
In 2020, the Institute for Disease Modeling and aspects of Global Good were transitioned to integrate and align even more closely with the Bill & Melinda Gates Foundation and Gates Ventures. The ongoing partnership and collaboration between these organizations has had tremendous impact over the past ten years. By moving projects to be more closely aligned, the work on many of these lifesaving innovations for the people who need them most can be accelerated.
Groundbreaking Impact
With an emphasis on platform technologies—core inventions that could be modified to serve multiple purposes—here are some examples of Global Good's most impactful work which will continue to save lives for years to come:
What started out as a project focused on modeling malaria eradication, The Institute for Disease Modeling (IDM), has grown into one of the world's preeminent research organizations that supports global efforts to eradicate infectious diseases and achieve permanent improvements in health by developing, using, and sharing computational modeling tools and promoting quantitative decision-making.
The Automated Visual Evaluation for Cervical Cancer is an artificially intelligent (AI) algorithm that can inexpensively analyze digital images and accurately identify precancerous lesions better than a human expert. NCI researchers plan to further train the algorithm on a sample of representative images and make it available for open source use.
EasyScan GO is an automated microscope that can examine sample slides and provide diagnostic accuracy that meets the standards of WHO Level-1 expertise. Commercialization partner and global microscope manufacturer Motic is exploring additional applications including patient case management, drug effectiveness tracking, and drug and vaccine trials.
The Arktek Passive Vaccine Storage Device is a super-insulated container optimized to safely store vaccines between 0 °C to 10 °C for 35 days or more using only ice packs in hot zone conditions. A modified version of the Arktek that uses phase-change materials rather than ice to maintain a cold environment is currently the world's only refrigeration device capable of keeping Ebola vaccines at the needed -80 degrees Celsius (-112 degrees Fahrenheit) without power in remote areas for up to 6 days.
Global Good's vaccine storage research also resulted in the creation of advanced next-generation cold storage devices like the MetaFridge which provides highly reliable vaccine cold-chain support for environments with unreliable power. Another Global Good invention, the Indigo cooler, keeps vaccines at the right temperature for at least five days with no ice, no batteries, and no power required during cooling.
AI Shield™ improves cattle conception rates with cold-chain equipment innovations. Improved artificial insemination (AI) could enable more successful crossbreeding for farmers who want to obtain cattle with both locally resilient genetics and higher milk yields. Global Good's AI Shield™ protects bull semen in transport from cold-chain breaks, and thus improves conception rates. The AI Shield device can also reduce evaporative waste of expensive liquid nitrogen.
The Mazzi Can created a clean, effective way to store milk to strengthen farmer linkages to formal markets. Many smallholders practicing subsistence farming rely on milk as an essential source of daily income. Use of the Mazzi™ milk container, less expensive than metal cans and readily cleanable, can improve the quality and quantity of milk that is successfully delivered to market, resulting in higher incomes for farmers.
IV extends a heartfelt thank you to the many people, teams and partners who made the work of Global Good possible. Since the company was founded 20 years ago, IV has continued to evolve, yet our steadfast commitment to making positive impact through invention remains.