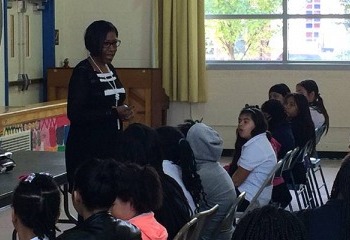 Insights
Inspiring Girls to Pursue STEM
September 23, 2014
"If you don't give up on yourself, we won't give up on you." That was the message IV President and COO Adriane Brown stressed to girls in fourth through eighth grade at LaSalle-Backus Education Campus in Washington, D.C.
Earlier this month, Adriane spoke to students about her career journey, the challenges she faced along the way, and how she overcame them to become both a leader and a role model for girls who want to pursue careers in science, technology, engineering or math (STEM). She noted that for a long time, people have said girls aren't good at STEM and asked that the students join her to help bust that myth.
"The workforce of the future is going to revolve around STEM," Adriane told the girls. "You can be the leaders of that movement."
The school's principal, Dr. Deborah Ann Cox, joined Adriane in emphasizing how important it is for young women to have strong role models. "Regardless of the hardships you face in your personal lives, you have someone to look up to. Ms. Brown is your role model. Just like her, you can be anyone you want to be."
LaSalle-Backus Education Campus is making its own efforts to encourage girls' participation in STEM fields by starting up a STEM and robotics club this year. By the end of the morning, 22 more girls signed up for the club.
"It's up to you," Adriane concluded. "Never let anyone tell you that you can't."
Learn more about IV's commitment to educating next-generation inventors.